Jerzy Przeździecki / Andrzej Karałow
If a record says 'Live At Ambient Festival', you may think this might be ambient music. That is not the case on the LP by Andrzej Karalow (grand piano, electric guitar, guitar effects) and Jerzy Przezdziecki (Buchla Music Ease, Eurorack system). The sound is crystal clear and has a slightly free jazz approach, slow, elegant and spacious. Karalow is mostly on the piano, playing sparse chords and notes, while the modular electronics make way for small sounds to fly about, in a similar elegant fashion. The guitar is touched upon also, and while not easy to be recognized it is there. There is a fine drift in this music that reminded me of The Necks, without any drums. That is not to say there are no drum sounds here; the modular synthesizers occasionally bleep in a repeating way, so it seems there is some rhythm. It is not your regular slow ambient music, so I was thinking, but it is also not difficult to recognize the atmosphere in here. The way all of it plays out might be owing to the world of free music, but also to that of a very lively chill out space. Lovely stuff! (Vital Weekly)
"Ideal Limit", "Pedestal's Complement" (Bocian Records) and "Wir" (Requiem Records)
the free improvised electroacoustic albums
A story, similarly as an improvisation, should give an impression of a spontaneous stream of events. A good speaker can draw his listeners into a colourful flow of events whose solution is impatiently awaited by them. The Vortex (Wir) is our story. Entirely improvised, it guides us through stylistically diverse moments during which we give in to the attempt to create our own world. A world in which colour is the dominant forming element of our common musical language. Wandering through the internal sound landscapes of such instruments as the Buchla Music Easel synthesizer, modular synthesizer, piano or DSI Prophet 6, we accept the challenge to map these seemingly different musical lands and merge them into a single, organic whole.
All pieces are improvised, recorded on the so-called one-take.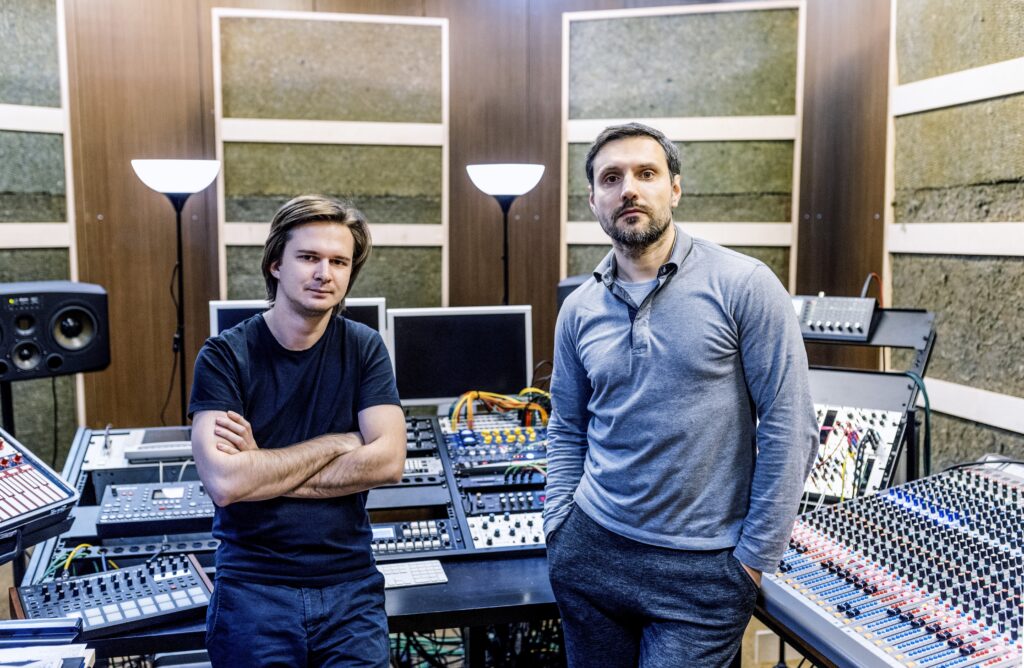 fot. Filip Antczak / Estrada i Studio
fot. Jan Suchorab / Viral Art Festival in Lublin
(…) Pedestal's Complement is intriguing.  This is not because other musicians are not experimenting with synthesizers and e-strings (and piano).  Rather the emphasis that Przeździecki and Karałow place on contemporary classical and minimalist musicality rather than de/recontentextualized noise or soundscaping makes this album stand out.  In that sense, it may be an oddity in its embrace of older musical conventions rather than just the outre, abstract, or harsh.  
(…)  I can say, however, that the two musicians seem to share a vision for whatever hybridity of musical forms this is.  One hears elements of house music and soundscaping's deep textures and wide-eyed wandering. In part because of Karałow's disciplined curiosity, however, this also has an intentionality and direction not always present in these types of postmodernist collaborations. In fact, rather than simply discarding the rule book or rewriting it, Przeździecki and Karałow gracefully merge different stylistic conventions into an electro-classical experimentalism that generally works.  
With music like this, this reviewer has the tendency to spew out a dense stream of adjectives, onomatopoeic comic-book sounds, and other descriptors to see what fits.  I am trying to avoid that, here.  But, to finish, Pedestal's Complement is an interesting listen that blends the dark and twinkling, the experimental and neoromantic (?) into a coherent and convincing package.  Although it does not always hit its mark, it does often enough to make a rewarding listen. (freejazzblog, Nick Ostrum)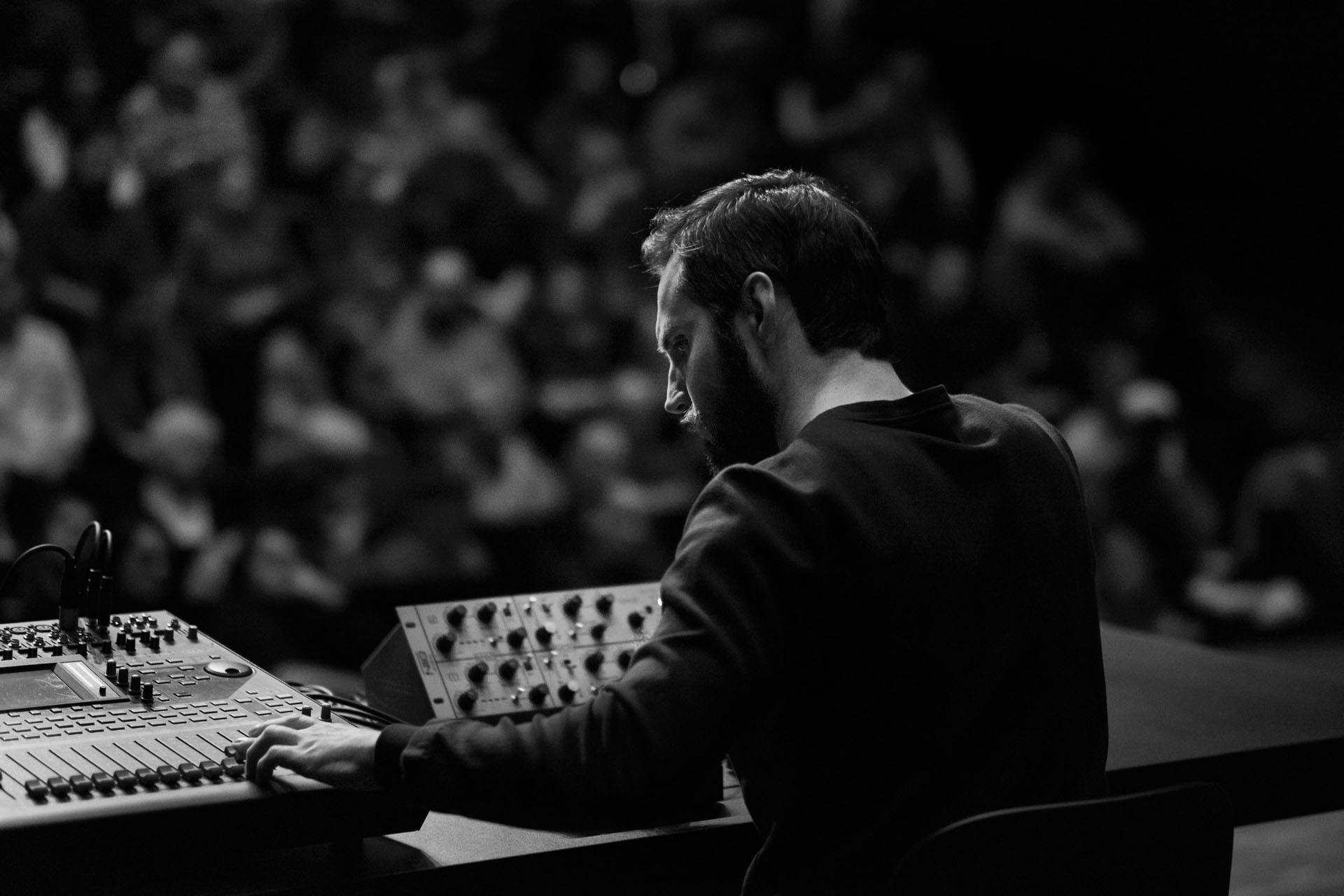 fot. live Filharmonia Szczecińska
JUREK PRZEZDZIECKI | Cocoon, Recognition, Boshke, Requiem)
Warsaw's analog techno maverick Jurek Przeździecki (b.1973) is one of the more powerful and uncompromising voices in former Eastern Bloc electronic music music scene. Bred throughout the 90s on a varied diet of first wave techno, new beat and post-industrial mutants like SPK or Psychic TV, he developed his own vision of highly intricate and detailed yet definitely danceable, funked-up techno for connoisseurs of the genre. Actively involved in producing music for 2 decades plus, he started his career in world-touring Bigwigs, later to release his solo and collaborative stuff on such labels as Cocoon, Whirlpoolsex, Synewave, Recognition, Nachtstrom Schallplatten or Affin. His productions were appraised and played out by numerous DJ/producer heavyweights including Laurent Garnier, Oliver Ho, Joey Beltram and DJ Hell, while Depeche Mode's Martin Gore included Jurek's track in band's tour DJ set. Currently, he recorded two quite successful EPs with Jacek Sienkiewicz as a duo Tumult Hands. He's been also quite busy focusing on his long-running Epi Centrum project whose LP will be out on Damon Wild's Synewave Records soon. He devotes most of his time to studying arcanes of deep composition and researching the possibilities of various legendary studio gears, such as Buchla's modular Morton Subotnick-designed System 200e. Lives and works in Warsaw.